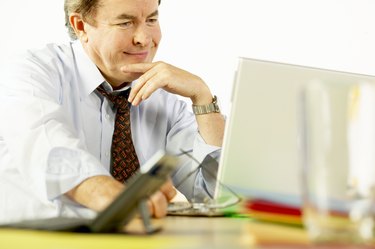 When you email a Word document directly from Microsoft Word, it is emailed as an attached document. An attached document is a separate file that prompts you to open or save the file to view its contents. With the increase of viruses, you may be asked to include a Word document in the body of your email. Doing so allows readers to view the contents of your document without Microsoft Word.
Using Microsoft Outlook
Step 1
Click the "New" button in Outlook 2007 to compose a message.
Step 2
Select the "Insert" tab from the ribbon and choose "Attach File." The "Insert File" dialog box opens.
Step 3
Select the file you want to add.
Step 4
Expand "Insert" and the bottom-right section of the dialog box. Then choose "Insert as Text."
Using Other Email Programs
Step 1
Start Word 2007 and open the Word document you want to send.
Step 2
Press "Ctrl+A" to select the entire document. Then right-click and select "Copy" from the pop-up list.
Step 3
Minimize Word and open the email program you want to use.
Step 4
Compose a new message as you would normally, adding the recipient's name in the "To" field and a subject line.
Step 5
Place your cursor within the message body of your email. Then select "Edit" and "Paste" from the toolbar or press "Ctrl+V" to paste the document directly into the email.