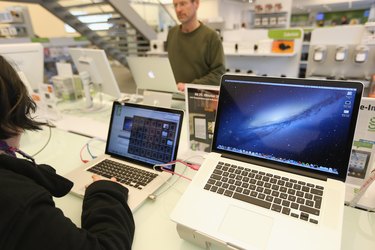 Album art can be saved onto MP3 files and then viewed when opening the files in an audio program or an MP3 player. Depending on how the MP3 files were added to your computer, the songs may not have album artwork. Album artwork can be downloaded to MP3 files by using the iTunes software. You also have the option of manually attaching any picture on your computer to the MP3 file and using the picture as album artwork for that song.
Download album artwork
Step 2
Click the "File" menu at the top of the program.
Step 3
Open "Add Folder to Library."
Step 4
Select the folder with the MP3 lacking album art and then click "Open." The MP3 files that don't have album art will be added to iTunes.
Step 5
Highlight the album that is without art.
Step 6
Click the "Advanced" menu found at the top of iTunes.
Step 7
Choose "Get Album Artwork." The album artwork will be downloaded and saved on every MP3 in that album.
Manually add album artwork
Step 1
Open the album with the MP3 files that have no artwork.
Step 2
Highlight every song that doesn't have artwork.
Step 3
Click "File" and choose "Get Info." A window will open.
Step 4
Select the "Artwork" tab at the top of the window. Then, click the "Add" button in the lower portion of the window.
Step 5
Find a picture on your computer that you're going to use as album artwork and click "Open." The artwork will appear in the window. Click "OK" to save the album artwork to the selected MP3 files.