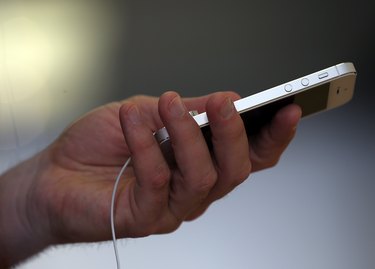 Your iPhone's encrypted boot disk makes it secure and tamper-proof, but also renders its drive difficult to examine and modify. Unlike an iPod, you can't put your iPhone in Disk Mode using iTunes or use your PC's File Explorer to move diverse files between them with ease. You can, however, use different applications to straightforwardly transfer files between a PC and iPhone that are connected via cable, wirelessly or in the cloud.
ITunes File Transfer
Use the File Sharing feature of iTunes to transfer files between your iPhone and PC. With iTunes launched on your computer and the iPhone connected via USB, click on your iPhone's name on the left sidebar. Next, tap the "Apps" button on the right and scroll down to the File Sharing section. If an iPhone app supports file transfers, you'll see it listed here on the left. To add a document from your PC to a listed iPhone app, click on its name, followed by the "Add" button below the app's displayed contents on the right; select the desired file and click "OK." To copy an iPhone file to your computer, click the "Save to" button instead; select your destination on the PC and then click "OK."
PC Utilities
Several PC utilities facilitate Explorer-like access to your current iPhone apps, music, photos and videos, as well as to content such as notes, call logs, SMS or MMS messages, contacts and calendars. Popular utilities include DiskAid, iExplorer, CopyTrans Contacts and Syncios. Like iTunes, these programs require you to download free or inexpensive software on your PC and connect your iPhone to the computer with its supplied USB cable. Double-click a program's icon to begin using it for bidirectional file transfers; you can save iPhone files to your PC or move new and edited files back to the iPhone.
Wi-Fi Transfer
Many third-party iOS apps allow you to transfer files between a PC and an iPhone over a shared Wi-Fi network with no cables required. To move documents between them, explore Wi-Fi file transfer apps such as Air Sharing, FileApp or Good Reader; for photos and videos, consider PhotoSync, Photo Transfer App and Simple Transfer. Some of these iPhone apps require companion software to be downloaded on your PC to facilitate Wi-Fi file transfers; others simply require that you manually input the computer's IP addresses, or a username and password, before proceeding.
Online Storage and Syncing
Once you sign up with a cloud storage service -- such as iCloud, Box, Dropbox, Evernote or OneDrive -- and install its apps on both your iPhone and computer, you can view many of the iPhone's stored files from your PC. The files are synchronized to ensure that you're viewing the same files on both devices, and unified in a single location that's quickly accessible on a Web browser, the iPhone app, desktop app or File Explorer on a PC.