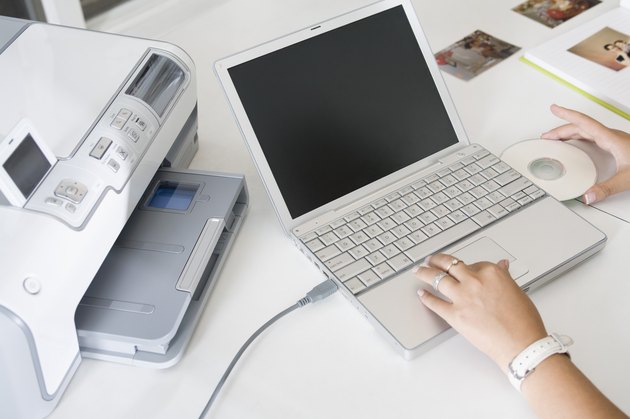 Hewlett-Packard, or HP, is a company that makes consumer electronics such as laptop and desktop computers, calculators and small hand-held computers known as PDAs. Another consumer electronic that HP is known for is the printer. Hewlett-Packard makes inkjets, deskjets, all-in-one and photo printers. None of these printers, however, will be any use to you if you can't load them with paper.
Step 1
Open up the front door of the printer, which serves as the paper tray. This door snaps shut so you will have to pop it open to fold it down.
Step 2
Pull the swinging arm that is tucked inside the paper tray out and flip up the small flap at the end of this arm. This arm and the flap at the end will stop your printer paper from falling onto the floor when you print something.
Step 3
Take a stack of paper that is 1/2 inch to 1 inch tall and gently tap one of the short edges of the stack on a flat surface, such as the top of a desk, until the opposite short edge of all the individual sheets of paper appear to be lined up. Next, tape on of the long edges of the stack of paper until the opposite long edges of all the individual sheets of paper appear to be lined up.
Step 4
Lay one end of your printer paper stack on the paper tray, with a short edge facing into the printer. Line the stack up with the tab on the right hand side of the paper tray that appears right before the opening to the printer. Push the stack of paper forward until you can no longer push it forward without forcefully jamming it into the printer.
Step 5
Move the sliding tab on the left side of the printer that you see, right before the opening to the printer, right up to the left edge of the stack of paper. Turn your printer on, if it is not already on, and you are ready to print.
Tip
These instructions are written specific to an HP Photosmart C3180; however, these instructions, or very similar ones, should work with most HP printers. For paper loading instructions for your specific HP printer see the link in the Resources section.
Warning
Make sure to change the printer paper settings if you plan to print on paper that is anything other than standard printer paper, especially if the paper that you will be printing on is smaller than standard printer paper.