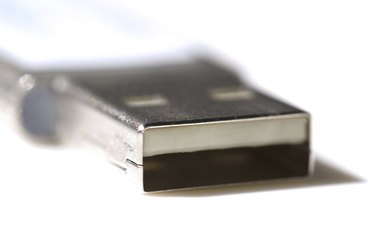 Transfer videos to your multimedia player and start taking full advantage of the device's screen. You can transfer videos to your Eclipse portable media player in two ways: using Windows Media Player or File Explorer. Both programs came with your Windows 8 computer.
Transfer With Windows Media Player
Step 1
Launch Windows Media Player on your computer. If you've never done this before, point your mouse to the lower-right corner of your screen, swipe up and click the Search charm. Enter "Windows Media Player" in the Search field and then click "Windows Media Player" to launch the application. You can also launch File Explorer by pressing "Windows-E" on your keyboard.
Step 2
Connect the Eclipse portable media player to your computer using the USB cable that came with the device. When the device is connected, Windows Media Player displays a prompt asking you to name the media player. Enter a name in the provided field and click "Finish."
Step 3
Click the "Sync" tab in Windows Media Player, drag and drop your videos onto the Sync panel on the right side of Windows Media Player and then click the "Sync" button to transfer the videos onto the Eclipse player. Windows Media Player pops those bad boys into the correct folder on your Eclipse player.
Transfer via File Explorer
Step 1
Connect the Eclipse player to your computer using the USB cable that came with the device. Launch the File Explorer application on your computer if it doesn't launch automatically when the Eclipse player is connected.
Step 2
Browse to the folder on your computer where your video files are saved, highlight them and press "Ctrl-C" on your computer's keyboard to copy the videos to your clipboard.
Step 3
Click the Eclipse player on the list of removable storage devices listed in File Explorer, click the "Video" folder and then press "Ctrl-V" to paste the videos on to the device.
Tip
After you load the videos on your Eclipse player, watch them by highlighting "Video" on the main menu and pressing the "OK" button.
Select "Dir List" on the Eclipse player's Video screen to display a list of all videos currently stored on the device.
Eclipse portable media players are only compatible with videos saved in the AVI and 3GP video file formats.
Warning
Information in this article applies to computers running the Windows 8.1 operating system. It may vary slightly or significantly with other versions or products.