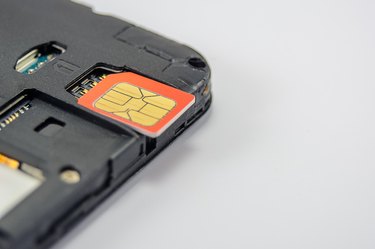 Getting a deactivated phone back up and running isn't something you need to do every day, but it may come up occasionally. If your current phone stops working or needs repair, reactivating a previous phone – if you still have one – can keep you up and running. It's also sometimes handy to have a separate phone on a prepaid account for when you're traveling, so you don't risk losing or damaging your main phone, and you need to reactivate it before each use. You can't always reactivate your old SIM, but when you can, the process is straightforward.
Can Your SIM Be Reactivated?
The first thing you need to do is find out whether your SIM can be reactivated. If you've moved to a new network, the answer is always "no" because your old SIM assumes you have an account with the old service provider. If you're still with the same network, check the terms and conditions associated with your account. If you don't have the paperwork from when you activated the phone initially, check your carrier's website or call and speak with a service representative.
Grace Periods for Reactivation
Some carriers don't permit a SIM to be activated a second time. When you terminate the account, that SIM is no longer valid, and you need to buy a new one to reactivate your phone. Other companies offer a grace period after you deactivate the phone. With Total Wireless, for example, your SIM is deactivated the day after your month-long plan ends. You can reactivate the SIM at any time during the ensuing 12 months, but your phone number usually changes.
With Republic Wireless, your grace period for reactivating is just 20 days. With TracFone, you can reactivate your SIM by adding airtime before the Service End Date, which can be anywhere from 30 days to a full year, depending on the denomination of airtime card you purchased last. After that time, you may still be able to reactivate, but you lose your number and have to get a new one.
Reactivating Your SIM Online
Some carriers may allow you to reactivate your SIM card online, using their usual activation screen. You usually need two specific numbers before you start: The 19-digit identification number that's written on your SIM card itself and your phone's IMEI number, which is a sort of electronic serial number. You can find that by going into the Settings menu on the phone and looking for an option called About this phone or something similar.
Armed with those two numbers and other account information such as your old PIN, password or account number, go to your carrier's activation page and follow the prompts. If it allows you to reactivate your SIM, your phone should be working within just a few minutes. You need to agree to a new plan for a postpaid phone or purchase airtime if it's a prepaid phone. After you do that, you should be up and running.
Reactivating Your SIM by Phone
You can also reactivate by phone if the online process won't complete successfully, if you receive an "invalid SIM" message, or if you're simply more comfortable doing it that way. You still need the serial number from the phone and the SIM card, as well as the PIN, password or security questions you used on the account.
If you're speaking with a service rep, they'll give you a verbal confirmation once your account is live and airtime is applied.