According to the US Department of Commerce, cryptographic key information is stored on a SIM card to protect you from tampering and to enable you to move your mobile identity and information to a different device securely and easily.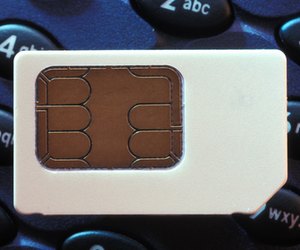 credit: sim card image by Stephen Gibson from <a href='http://www.fotolia.com'>Fotolia.com</a>
SIM cards are small chips that are placed inside of your cell phone to enable you to store information and connect to your mobile phone provider's network. Several major cell phone providers such as T-Mobile and AT&T require the use of a SIM card to operate a phone.
Using SIM cards enables you to quickly and easily transfer the contents of your phone as well as your service to a new phone when upgrading or changing devices. Therefore, if your phone requires the use of a SIM card to work, you may want to consider reactivating it if you lose service or switch carriers.
Step
Determine what type of SIM card you would like to reactivate.
SIM cards are assigned by individual cell phone providers. Each SIM card has an identifying number that is activated while the account remains current and in good-standing. Once your account is terminated the company deactivates the SIM card. Be aware some international SIM cards that may be used in the U.S. and abroad; and some SIM cards will only function within a specific region.
Step
Identify when the SIM card was deactivated.
SIM cards typically expire after 12 months of inactivity, and the company makes the numbers available for re-assignment. In addition, for pre-paid mobile phone users, SIM cards deactivate if not used within a certain time period; usually 90 days after purchase. If the cell service company has reassigned the number, it can still reactivate the SIM card, but the SIM card will be assigned a new number.
Step
Contact the mobile provider for the SIM card you would like to reactivate.
Wireless carriers usually lock SIM cards, so you will need to contact the issuing provider for the unlock code if you want to use it on their system or on a different network. Work with the customer service representative to reactivate your SIM card.