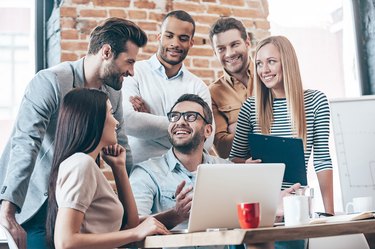 Event organizers typically use network streams to deliver webcasts of business presentations, panel discussions, group conferences and company announcements. If you need to attend a professional gathering from a remote location, you can easily view the event's network stream through a Web browser. But if you want to save the footage of the webcast for repeat viewing, you can record it using VLC. In addition to its main function as a free audio and video player, VLC can display network streams and capture them as ASF files.
Step 1
Download and install VLC from the VideoLAN website.
Step 2
Launch VLC. Go to the "View" tab on the application menu and select "Advanced Controls." The "Record" button displays on the control bar.
Step 3
Click the "Media" tab and select "Open Network Stream." Enter the direct URL to the network stream in the "Address" field. Click "Play" and the network stream loads in VLC.
Step 4
Click the "Record" button. When you are ready to stop recording the network stream, click the "Record" button again.
Step 5
Click the "Media" tab and select "Recent Media." The recording of the network stream appears listed in ASF format. Select the listing to view the captured media in VLC.