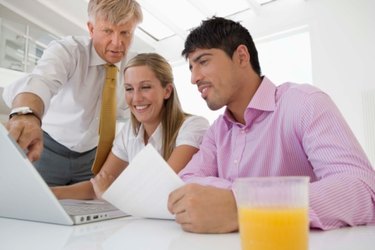 You may not take pleasure in bank fee charges, but failing to record the fee properly in QuickBooks can cause additional headaches. For QuickBooks purposes, bank fees are treated in a similar manner as check charges and withdrawals. By recording bank fees in the QuickBooks check register, you avoid overlooking the transaction when it is time to reconcile the account. If the bank fee is not recorded properly, you will waste time identifying and correcting the problem.
Step 1
Click "File," then "Open or Restore Company" to access your company's QuickBooks file.
Step 2
Click the "Open a company file" radial button and select "Next."
Step 3
Choose your company's QuickBooks file name. Click "Open."
Step 4
Click "Banking," then "Use Register" from the main menu at the top of the screen.
Step 5
Select the bank account that corresponds with the bank fee from the drop-down menu. Click "OK."
Step 6
Scroll down to the bottom of the check register and locate a blank transaction space.
Step 7
Click the date field and enter the date of the bank fee charge.
Step 8
Enter the bank fee amount in the "Payment" column.
Step 9
Select the "Bank Service Charges" account in the "Account" drop-down menu.
Step 10
Click "Record" to save the transaction.