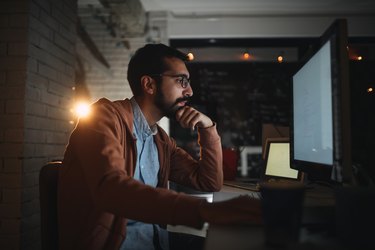 Although modern computer hardware is capable of an outstanding array of tasks and functions, situations do arise where these devices need their own "clear start." Reformatting a computer is an excellent way to restore your hard drive and operating system to their original factory settings, removing any content that may have contributed to system problems along the way. If you have a computer running Windows 7, reformatting is a relatively easy process. If you are ready to reformat Windows 7 hardware, you can do so using a few simple steps.
Understanding Reformatting Basics
Before you begin the reformatting process, it is important to take a moment to understand the implications of this process. When a computer is reformatted, any and all user data stored on internal drives will be destroyed. With that in mind, you may need to take time prior to the reformatting in order to back up any valuable content or applications that you have. Failure to do so could mean that they are lost entirely. Once you have determined what your specific backup needs may be, you can move forward with the process for how to reformat Windows 7 as needed.
How to Reformat Windows 7
In order to reformat your Windows 7 computer, the first step is to insert a Windows 7 system disc or flash drive and turn off the hardware entirely. After doing so, restart the computer. Your computer will use the disc in question as its primary boot source. A menu should appear, which will prompt you to select your specific language preferences. After this is complete, you can begin working your way through the various menus that appear on the path to reinstalling Windows. When you reach the menu asking where you would like to install Windows 7, select the hard disk which you are trying to format.
This will also be an opportunity to remove any partitions in your drive. When you have finished clearing your drive, you can begin the reformatting process by clicking "Next." At this point, you will be required to name your computer and set up a user account. Once this is done, Windows 7 will be reinstalled and your drive will be formatted back to its factory default.
Keep in mind that you can reformat your drives without reinstalling Windows 7 at this stage, if you so choose. This may be a convenient option for those who have specific reformatting needs and do not need a more generalized "refresh" of their computer system.