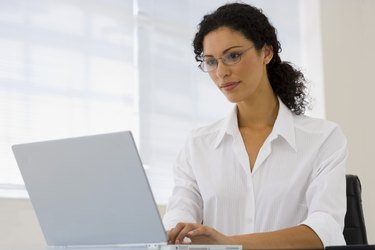 Formatting should be a regular part of your system maintenance on your ASUS laptop. Formatting is useful if your computer is infested with viruses or with spyware. It is also a useful tool for basic maintenance, as your hard drive will perform more efficiently if it is formatted regularly. Formatting will also clean out any old drivers that are still hogging system resources. By following these simple instructions, you will be able to easily format your ASUS laptop.
Step 1
Enter your Windows OS installation CD into your ASUS laptop's CD-ROM, then restart your computer.
Step 2
When your computer restarts, instead of booting up normally you will now see a Windows "Welcome" screen. Press "Enter" to continue. At the next screen, press "F8" to accept the Windows licensing agreement.
Step 3
The next screen that appears will show a list of all of your hardware partitions. Tab down to the hard drive you would like to format and press "D" to delete it.
Step 4
Once you have deleted your hard drive partitions, you will now see a drive labeled "Unpartitioned Space." Press "Enter" to begin installing Windows on your ASUS laptop.
Step 5
There will now be several options for Windows installation. Select the option labeled "Format the partition using the NTFS file system." NTFS is the type of file system used by Windows, meaning that Windows requires files to be structured a certain way to be used.
Step 6
You will now see a Windows installation screen. Follow the instructions and enter your product key. Windows will now begin automatic installation. Wait until the process completes and your computer restarts. You have now successfully formatted and reinstalled Windows on your hard drive.
Tip
Back up any drivers or files you don't want to lose upon formatting.
Warning
Do not turn off your computer at any time during Windows installation.