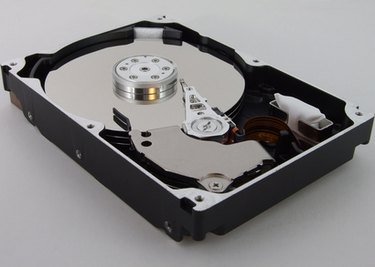 The hard drive on a computer is the main storage component for files and programs. It contains all of your text, audio and video files, and also is home to the operating system, which controls your computer. There are times your hard drive may become infected with a virus, or you may wish to wipe it clean and reinstall programs to make it run more efficiently. Formatting will erase the drive and prepare it for use.
Step 1
Back up all of your important data on an alternate memory device like a CD, flash drive or Zip drive. Remove the alternate memory device before you begin to reformat your hard drive.
Step 2
Insert the Windows operating system CD and restart your computer. When your computer starts up, there will be a prompt to "Press any key to boot from disk." After you press any key, Windows will load the setup utility.
Step 3
Choose a language and set any other preferences for your computer.
Step 4
Click "I Accept the License Terms" and choose "Next."
Step 5
If the setup program detects a previous installation of Windows and asks if you want to repair it, press "Esc" to skip the repair.
Step 6
Click "Custom" installation.
Step 7
The setup program will ask where to install Windows. Click "Drive Options (Advanced)" and choose the partition onto which you want to install Windows.
Step 8
Click the formatting options you want to perform. Select NTFS for the file system type.
Step 9
Things You'll Need
Windows operating system CD

Alternate memory device: CD, flash drive or Zip drive
Tip
After reformatting your hard drive and installing Windows, you will have to perform a series of Windows updates.
Warning
If at any time in the process you are prompted for a password for the Administrator account (or any other account), you must enter a password and proceed. Do not leave the password blank.