Windows allows you to manually register an OCX or DLL file using a program called Regsvr32.exe that comes with the operating system. In a 64-bit version of Windows, both a 32-bit and 64-bit version of Regsvr32.exe are included with the system. To register a 64-bit OCX file, you will need to use the 64-bit version located in the "System32" folder, not the 32-bit version located in the "SysWoW64" folder.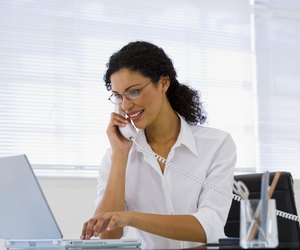 Step
Press the Windows orb to open the "Start" menu. Click "All Programs" and then click "Accessories." Right-click on the "Command Prompt" icon and choose to "Run as Administrator."
Step
Type the command "Regsvr32," whereis the full path and filename of the OCX file you want to register. Include a "/s" in the command to run in silent mode and keep the system from displaying any messages. Press "Enter."
Step
Wait for a confirmation that the OCX was registered if you didn't choose to run Regsvr32 in silent mode. Restart the system once the process is complete.