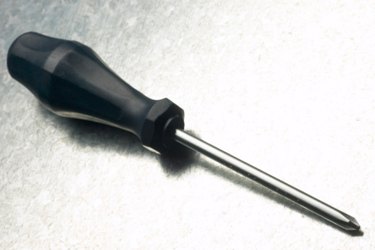 Samsung sells its LCD televisions with removable TV stands, which are included in the box, unattached. You have the flexibility to use the stand or to mount your Samsung LCD TV on a wall or a desk mount. The stand consists of a sturdy pedestal attached to a guide that slides into the body of the television. Perhaps you set your TV up on the stand when it arrived, and now you want to remove it to mount the TV on a wall. You need only a Phillips-head screwdriver to remove the stand and prepare your TV for the next step.
Step 1
Spread a soft blanket or cardboard box slightly larger than the screen of the television out onto a flat surface. This will help protect the screen while you remove the stand.
Step 2
Lay the television facedown on the blanket.
Step 3
Remove the screws holding the guide stand to the television, using the Phillips-head screwdriver. There are four screws directly above the pedestal of the stand connected to the television. Remove the two higher screws first, and then the two screws that are slightly lower.
Step 4
Place a small bit of masking tape, sticky side out, onto the head of the screwdriver. Press the head of the screwdriver against the screw in the screw well and lift the screw out, using the tape adhesive.
Step 5
Slide the guide stand from television body by pulling the pedestal, with stand attached, from the small slot in the bottom of the television.