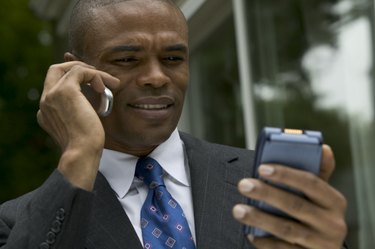 Like every other mobile phone in use today, your iPhone is assigned a unique, 17-digit number known as the International Mobile Equipment Identity, or IMEI. The IMEI number is used to identify your phone as a device unique to whichever cellular network you are using. Changing or removing your IMEI number can be done by using a third-party program known as ZiPhone. If your device is still under manufacturer's warranty, be forewarned that removing the IMEI number may void the warranty.
Step 1
Download the ZiPhone file to your desktop and install the ZiPhone application. (See Resources.)
Step 2
Connect your iPhone to your computer using the USB sync cable. If iTunes automatically launches when you connect your iPhone to your computer, then quit and close the iTunes application before proceeding.
Step 3
Bring up your computer's command prompt by navigating to the "Start" menu and clicking on "Run," then typing "cmd" and pressing the "OK" button. If you are using a Mac, then open the "Terminal" application.
Step 4
Type "cd Desktop/ZiPhone" into the command prompts window.
Step 5
Type "ziphone" into the command prompt to display a list of possible commands that can be executed.
Step 6
Force your iPhone to enter "recovery mode" by holding down the "Sleep" button at the top of the device and the main button at the bottom device at the same time until the Apple logo appears on the iPhone's display. Let go of the buttons and the iPhone will now display a picture of the iTunes logo and the USB connector. Keep your iPhone plugged into your computer.
Step 7
Remove or change the IMEI number by going back to the command prompt window or Terminal window and entering "ziphone -u -i a(IMEI number)". Replace the "(IMEI number)" of the command with the IMEI number you wish to change to. Since you want to remove the IMEI number, simply replace that section of the command with "a00000000000000000". The "a" is required and your IMEI number should be entered as zeroes to mimic a device that does not have an IMEI number.
Step 8
Press the "Enter" key on your keyboard to execute this command and remove the device's IMEI number. Do not close the command prompt until the process has completed running and your phone has automatically rebooted.