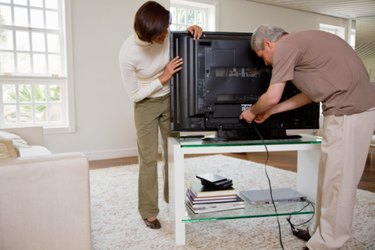 LCD, LED and plasma flat screen TVs, even the larger models, are much lighter and easier to maneuver than their previous rear projection flat screen counterparts. They can be displayed on thin stands or mounted on a wall, and it is easy to remove them from the stands for wall mounting if you change your mind on where the set will be placed. However, even with the lighter weights involved when you're removing the television from the stand, especially with larger televisions, it is a good idea to have someone help you to avoid accidentally breaking the set.
Step 1
Remove the stand cover from the TV stand. Not all televisions will have a cover.
Step 2
Look at the screws visible on either side of the stand where it is connected to the TV. Select the correct screw driver for the screw heads since it differs on Bravia models.
Step 3
Hold the TV steady while another person unscrews the stand. There should be four screws, two on each side of the stand which attach the stand to the back of the TV. Hold the TV securely so it does not fall when the screws are removed. If you do not have someone to help you, brace the set firmly so it doesn't fall when you take the screws out.
Step 4
Lift the TV straight up to remove it from the stand.