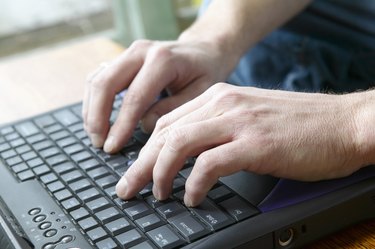 The Trojan Banker is a backdoor virus that allows hackers to connect remotely to your computer. Once this is done they can send emails from your inbox, download spyware and viruses, and get access to your files. Your private and sensitive information is put at risk and you may become the victim of identity theft. You need to remove this virus immediately to protect yourself.
End System Processes
Step 1
Press "Ctrl," "Shift" and "Esc" keys at the same time to launch the Task Manager.
Step 2
Click on the "Processes" tab.
Step 3
Select "hu2rcn.exe" and click "End Process."
Step 4
Repeat step 3 for "braviax.exe" and "winivstr.exe."
Delete Registry Entry
Step 1
Go to the "Start" menu and click on "Run."
Step 2
Type "regedit" and hit "Enter" to start the Registry Editor.
Step 3
Navigate to find and delete this registry key:
HKEY_CURRENT_USER\software\Microsoft\windows\currentversion\run braviax
Step 4
Close the Registry Editor.
Delete Files
Step 1
Go to the "Start" menu and select "Search."
Step 2
Select "All Files and Folders" option and the hard drive.
Step 3
Type "Trojan.Banker.D" and hit "Enter." Delete all of the search results and repeat this process for "braviax.exe," "delself.bat," "hu2rcn.exe," "index.dat," "karna.dat," "~ie1.exe," "05964d9ac9e2f74627330d7d8241c5ba," "3079669," "5391253," "5775181," "5831330," "5859193," "9618b7e414c3ab3200e0280aafe58725," "beep.sys," "beep.sys_," "cru629.dat" and "hadjajr.ini.old"