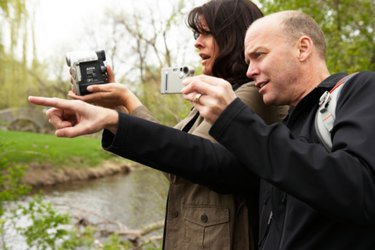 When it comes to hosting video on a website, most people do not have the technical knowledge or the computer infrastructure to handle such an application. The common answer is using a third-party hosting site, such as Youtube or Vimeo. These sites provide embed codes so you may post a video to your own website, making it appear as though your website is doing the hosting. However, the default settings for these embeds often contain unwanted clutter, but you may customize the look of your embedded video and remove the titles that appear on the picture.
Step 1
Click the "Embed" button on the player on your video's Vimeo page.
Step 2
Click the blue "Customize embed options" link when the "Embed this video" dialog box appears.
Step 3
Go to the "Intro" section. Uncheck the boxes for "portrait" (your Vimeo profile picture), "title" (the title of the video), and "byline" (your name or your Vimeo user name) to customize titles as needed.
Step 4
New embed code will appear in the box at the top of the window, based on your customizations. Copy the new code and paste it the appropriate sections on the website where you want to embed the video.