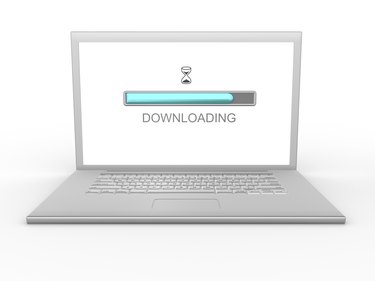 Sound problems on your MacBook can be the result of anything from improperly configured system settings to malfunctioning speakers. Perform a few troubleshooting procedures to diagnose and repair audio playback issues on MacBooks running OS X Yosemite.
Basic Troubleshooting
Unplug any headphones or external speakers connected to the computer and restart your MacBook. When it reboots, check that its audio is turned on. Press the "F12" button to un-mute and increase the volume. The MacBook's speakers should make a clicking noise as you increase the volume. If the F12 key is broken or your MacBook doesn't have this functionality, click the "Volume" button in the toolbar at the top of the screen and drag the slider to increase the volume. After you've verified that the volume is turned up, click the "Apple" menu in the top corner of your screen and select "Software Update" to ensure that the computer's software is all up to date. If not, take a moment to install any recommended system updates.
Check Your Audio Settings
Verify that your MacBook's audio settings are configured properly. Click the "Apple" menu in the top corner of your screen and select "System Preferences." Click the "Sound" icon and select the "Output" tab to view a list of devices configured to play sound. Select "Internet speakers" and make sure the "Mute" check box is not checked. If it is, remove the check mark. If you're trying to play sound through external speakers, check that they are selected as the output device. If you're having trouble playing sound and are using iTunes, QuickTime or another dedicated multimedia program, open that program's sound controls and make sure they're set up properly.
Troubleshooting External Speakers
If you're using external speakers with your MacBook, check that the speakers are connected properly to the computer. Ensure that the speakers are turned on. If they have dedicated volume controls, turn them up. If you still can't hear sound, connect the speakers to another computer or audio device to confirm that the speakers are working correctly. If you can't hear sound from the speakers when they're connected to another device, it's likely that the speakers themselves are the problem, not your MacBook.
Troubleshooting Wireless Speakers and Headsets
Wireless speakers and headsets present their own unique set of potential problems. If you're using wireless speakers, make sure the base station is turned on, if applicable. If the speakers or headset are battery-powered, charge the batteries or replace them with new ones. If the speakers or headset transmit a signal via Bluetooth, verify that your MacBook's Bluetooth functionality is enabled. Click the "Bluetooth" icon on the menu in the top-right corner of your screen and click "Bluetooth On," if necessary. In addition, some Bluetooth devices need to be manually paired with a computer before they'll work properly. Consult the device's documentation for more information about pairing it with your MacBook. Also keep in mind that Bluetooth devices don't operate correctly beyond a range of about 30 feet. If your MacBook and Bluetooth speakers are too far from one another, this can lead to sound transmission problems.