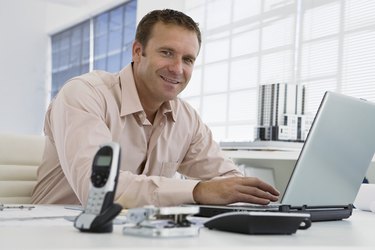 Windows Mail, the default email client included with Windows Vista, depends on the integrity of its message database--also called the message store--to function properly. If your computer is shut down unexpectedly while the message store is in use, you may find that Windows Mail exhibits strange behavior or does not run properly because the Windows Mail database is corrupt. Clean up the Windows Mail message store using built-in features or a third-party utility to resolve this issue.
Built-in Features
Step 1
Launch Windows Mail. Click the "Tools" menu at the top of the screen, then click "Options."
Step 2
Click the "Advanced" tab, then click the "Maintenance" button at the bottom of the window.
Step 3
Click the button labeled "Clean Up Now."
Step 4
Click the "Reset" button. Note that this will clear all messages out of the Windows Mail message store and that your messages will need to be downloaded from the server again. This operation cannot be reversed.
Step 5
Click "Yes." Close all open windows when the operation is complete, then close and reopen Windows Mail. After downloading your messages from the server, Windows Mail should behave normally. If this does not resolve the issue or if you have an issue that prevents you from using Windows Mail, proceed to Section 2.
Using WMUtil
Step 1
Download WMUtil using the link in the Resources section of this article. Extract the archive to the location of your choice.
Step 2
Run "WMUtil.exe" to launch the repair utility.
Step 3
Click the "Repair Database" button. You will see a window reminding you that this operation should only be performed when the Windows Mail database is damaged or corrupt, as there is a possibility of losing information. Click "OK" to continue. The window will close automatically when the operation is complete.
Step 4
Launch Windows Mail. The program should now operate properly.
Tip
Some users of the initial release of Windows Mail have reported encountering an issue where they are unable to delete messages from certain mail folders. Microsoft resolved this issue with a patch for Windows Mail. Download and install the Windows Mail patch or Windows Vista Service Pack 2 (both links available under Resources) to resolve this issue.