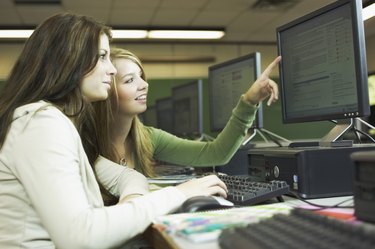 Resetting a computer to its default settings allows you to turn back time on your computer and return it to its original operating condition. The restoration process can be an effective method in fixing critical system errors and removing undesirable malware such as trojans, worms and other devices that may be causing problems in the computer's performance. Fortunately, for Dell Inspiron E1705 owners, Dell has included a built-in utility that allows you to restore the default or factory settings in a few steps.
Step 1
Back up any essential files and folders stored on the Dell Inspiron E1705, as the restoration process will erase all data stored on the laptop. Connect the external hard drive to one of the computer's USB ports located on the side of the laptop's body. Copy and paste any valuable documents, files, photos, music and other files to the hard drive folder that appears on the computer's desktop. Right-click on the hard drive's icon and click "Eject" when you are finished backing up the files.
Step 2
Disconnect any non-essential hardware devices that may be plugged into the laptop. Remove the external hard drive and any printers, scanners and external monitors, as they can be adversely affected by the restoration. Remove the computer from a docking station if you are using one. Quit any programs that are running and shut down the computer.
Step 3
Turn on the computer. Once the Dell logo appears, press and hold down the "F8" key on the keyboard to bring up the Advanced Boot Options Menu. The menu must be accessed before the Windows operating system starts up. If the Windows logo appears, let Windows launch as normal, then shut down the computer and start over.
Step 4
Use the down arrow keys to navigate to the "Repair Your Computer" option in the Advanced Boot Options Menu and press "Enter" on the keyboard. Click "Next" on the welcome screen that appears. Log in using the administrator credentials that were created when the computer was first turned on and click "OK."
Step 5
Click on "Dell Factory Image Recovery and DataSafe options" and click "OK." Check the box next to "Yes, reformat hard drive and restore system software to factory condition" and click "Next" to begin the process of resetting the Dell to default settings. This process can take several hours, depending on the hard drive size and the processing speed of the computer.
Step 6
Click "Finish" once the process is complete, and the computer will automatically restart with the default settings in place.