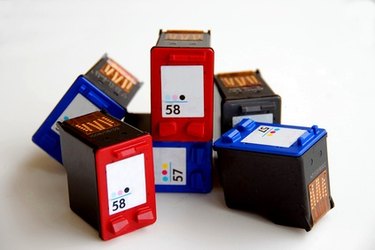 Resetting an HP 74 Ink cartridge is a good idea if you experience a malfunction or other problems with printing or cartridges that you have not been able to resolve in any other way. There is a way of resetting the device, called a soft reset, which will help in resolving malfunctions having to do with cartridges and paper. This reset can be done in a few simple steps.
Soft Reset
Step 1
Disconnect any USB cables and remove any memory cards from the printer.
Step 3
Open up the printer, unlock the ink cartridge locking clips and remove the cartridges.
Step 4
Re-lock the empty ink cartridge locking clips and close the printer.
Step 5
Turn off the printer with the "Power" button and wait for the printer to shut down completely before proceeding to the next step.
Step 6
Disconnect the printer's AC adapter from the printer and from the wall outlet or power bar. Wait 40 seconds before proceeding to next step.
Step 7
Reconnect the AC adapter into the wall outlet and into the printer and wait for the missing ink cartridge error to verify that the printer recognizes that the cartridge is missing.
Step 8
Re-insert one ink cartridge only and print a test page.
Step 9
If no errors are found, insert the other ink cartridge and ensure that it is working by printing another test page. If an error occurs due to a defective cartridge, perform the appropriate steps for print cartridge errors listed in the Resources.
Step 10
Reconnect the USB cable to the computer and to the printer. Test for printer functionality.