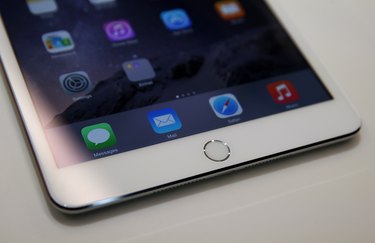 During day-to-day use, iPads do not regularly turn off -- pressing the button that turns the screen off is akin to putting your computer to sleep, not rebooting it. Unlike computers, iPads almost never need to restart, but turning the device off and on fixes some glitches including apps that crash or freeze and stuck App Store downloads. To deal with major errors that don't get better after rebooting, erase your tablet's settings or restore it to factory conditions.
Reboot Your IPad
To reset an iPad, hold the "Sleep/Wake" button for several seconds until the power slider appears on the screen. Drag the slider across the screen to shut the iPad off. After the screen goes dark, hold "Sleep/Wake" for several seconds to restart your tablet. If your iPad is frozen and won't display the power slider, hold both the "Sleep/Wake" and "Home" buttons for 10 seconds to force the system to restart. Let go of both buttons after the Apple logo appears.
Reset to Factory Settings
When you run into major system glitches on iOS 7 or iOS 8, or want to clear your data before selling an iPad, open the Settings app, tap "Reset" and choose "Erase All Content and Settings." Alternatively, click "Restore" on the iPad's information page in iTunes. After your iPad erases its data, it offers the choice to either start the system from scratch or restore backup data from iTunes or iCloud. The Reset menu in the Settings app also has buttons to reset some or all system settings, such as the network settings or the home screen layout, without erasing your files and apps.