The 5D Mark II digital camera is one of Canon's flagship products, with feautures designed to serve both advanced amateurs and professional shooters. However, the wealth of settings and options can seem overwhelming and lead to unpredictable results. If you're experiencing problems with your camera or are unsure how to change a specific feature, resetting the Canon 5D Mark II to its factory settings can help the problem. Canon has a built-in menu command that makes resetting the 5D Mark II a simple process.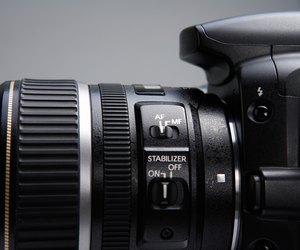 Step
Open the Canon 5D Mark II's menu system by clicking the "Menu" button on the back of the camera.
Step
Scroll to the seventh menu at the top, indicated by a wrench icon with three small dots next to it.
Step
Choose the "Clear settings" command.
Step
Choose "Clear all camera settings."
Step
Indicate that you agree to clear all the camera's settings.