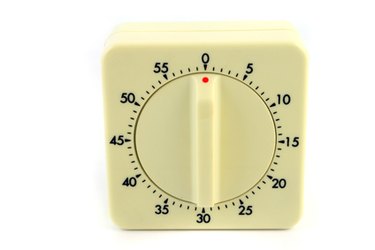 The lamps used in Panasonic projection TVs have limited lives. Unlike regular light bulbs, they can break or explode when they evetually die. To prevent this from happening, Panasonic projection TVs include timers to track how long a lamp has been in use and warns owners when the bulb requires replacement. Since knowing exactly how many hours a bulb has been in service is so important, it is essential to reset the lamp timer every time a bulb is replaced.
Step 1
Replace the television set's lamp assembly in accordance with the manufacturer's instructions.
Step 2
Plug the television set back into the wall socket.
Step 3
Press and hold down the "VOL -" button on the television set's control panel. While doing this, aim your remote control at the TV and press and hold its "PIP" button. If you have a set with model number PT-xxLC14 where the "xx" could be 43, 50 or 60, press and hold the remote control's "Split/Play" button instead of the "PIP" button.
Step 4
Release the two buttons when a message comes on the TV screen letting you know that the timer was reset to zero hours.
Step 5
Press the "Enter" button in the center of the remote control's directional control keys to exit the message. Your television is now ready for normal use.