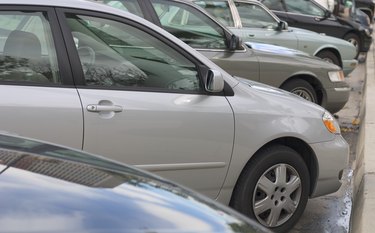 Many Toyota vehicles have factory navigation systems installed. These systems hold personal data such as recent locations, phone books, gas mileage and car maintenance records. When it's time to sell a Toyota with the factory navigation, you should reset it to the factory default. This will erase all personal data and help protect you from identity theft.
Step 1
Turn the Navigation system "On" and press the "Setup" button located on the right side of the unit.
Step 2
Select "General" from the top right side on the touchscreen menu.
Step 3
Press the "Down" button to select "Delete Personal Data."
Step 4
Select "Delete Personal Data" when prompted, touch "Yes" to confirm. All personal data is erased and the settings are set to factory default on the Toyota navigation system.