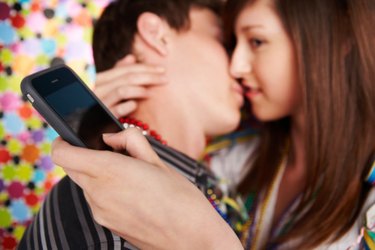 When the power button is pressed on the iPhone, the device is put into sleep mode rather than being fully turned off. Because of this always-on state, the iPhone is rarely reset. This can lead to sluggish performance after a software glitch, a failed synchronization or a hardware error. Turning the iPhone completely off and back on again can have the same benefits as when you reboot a computer, refreshing the operating system and freeing up memory.
Turning Off
Step 1
Press the power button briefly to turn the screen on. The power button is located on the top of the iPhone. Slide the switch at the bottom of the screen to the right to unlock the device.
Step 2
Press and hold the power button for five seconds. Release the button when a red slider appears at the top of the screen.
Step 3
Slide the red button to the right to turn the iPhone off. Wait 30 seconds after the screen goes blank. Then, press and hold the power button for two seconds to restart the iPhone.
Hard Reset
Step 1
Press and hold the power button and the "Home" button for 10 seconds if the iPhone is unresponsive and you are unable to turn it off and back on again.
Step 2
Release both buttons when the iPhone's screen goes blank. The Apple logo will appear as the iPhone resets itself.
Step 3
Wait for the Apple logo to disappear, then press the power button once to turn the iPhone back on. The iPhone's hardware and operating system will be fully reset but the content on the phone will not be erased.