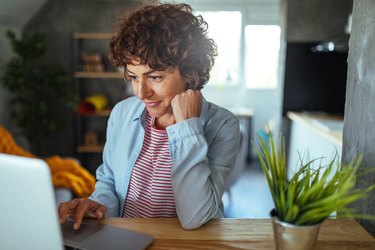 PDF files are frequently used for personal and business use. The file format creates a document that appears the same on any platform that displays it. It is the format of choice when creating finalized documents that are intended only for presentation and reading by the recipient. However, a large PDF file size may limit your ability to send the document through email or other normal file transfer services. Resizing the PDF makes it more user-friendly.
Use a Free Compressor
The quickest way to resize a PDF file is with a compression tool. These tools are available through a basic web search, and many, such as Compress PDF and PDF Compressor, are free and available for use in a web browser. There's no need to download anything or pay because free tools are abundant and effective. The best tools do not require an account setup or any personal information.
After locating a free PDF compressor tool, upload your PDF. The compressor reduces the size and generates a new, smaller file. Make sure you have an original saved on your computer as a backup. Save the smaller file, and you are all set.
Most free compression tools change PDF sizes to make them email friendly. If you have an exceptionally large file, you may be offered a range of compression options. Choose one within your desired file size range and save that copy.
Sending PDF Files
The compressed version of a PDF file is used for easy sending. Ideally, the compressed file size is small enough to send attached to an email. If you are struggling to reach this size without losing quality on a large file, sending the PDF through a document-sharing service or using cloud sharing are good alternatives.
You can share large file sizes using simple services designed for the sole purpose of file transfers. Many of these services place a time limit on the file, so it eventually expires. A web search will retrieve a list of these services including WeTransfer and DropSend. A cloud-based service such as Google Drive, Dropbox and iCloud also easily accommodate large file sizes.
Resize a PDF Manually
You also have the option to rework the PDF size manually. To do this, use a PDF editor such as Adobe Acrobat or Wondershare PDFElement. This process is not relative to the file storage size, but it works to resize to fit the PDF on your printer paper size.
Open the PDF in the editor and select Edit and Crop Pages. Click CropBox and adjust the page margins if needed. If the margins are acceptable, you can skip this step. Choose Custom and Change Page Size to adjust the physical sizing. This affects the printing process and paper size used.
Choose the fixed size option for standard page settings or go ahead and customize the page size to your preference. If you have no intention of printing, customizing is more flexible. You still must keep the screen size in mind for your reader, however.
Choose the Print option to set the final page size. Use the print preview function and make page size adjustments as needed. Use the print tools even when you have no intention of printing.