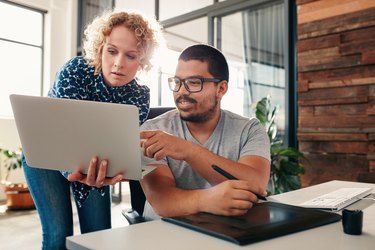 Restoring your laptop to factory settings can take up to an hour to perform, depending upon the type of laptop and operating system on your machine. Prior to performing a system recovery, you should remove any external peripherals, such as ExpressCards, PC Cards, and USB-connected printers and hard drives.
Restore on a Dell
Step 1
Turn on the laptop. Press the "F8" key until the "Advanced Boot Options" screen appears.
Step 2
Select "Repair Your Computer" using the arrow keys. Press the "Enter" key.
Step 3
Choose your "Language," then "Next." Login with an administrator-level username and password. Click "OK."
Step 4
Select "Dell Factory Image Restore," then "Next." Tick the check box next to "Yes, reformat hard drive and restore system software to factory condition." Click "Next."
Step 5
Click on "Finish" after the computer has concluded the factory restoration.
Restore on an HP
Step 1
Insert the HP recovery disk. Restart the computer, and press the "F11" key.
Step 2
Press the "F" key to "reinstall factory settings." If your computer's operating system is damaged, you may only see "perform a full system recovery" as an option. In this case, press "R."
Step 3
Insert any disks if prompted by the restoration program. Otherwise, permit the computer to restart as needed.
Restore Via Disks (Generic)
Step 1
Insert the "Recovery Disk" or "System Recovery Disk." If you have more than one disk, make sure you insert "Disk 1" or "Part 1."
Step 2
Press any key to boot from CD if prompted to do so.
Step 3
Choose a "Full System Restore," "Restore Factory Settings," or another option worded similarly.
Step 4
Confirm that you want to perform the restoration. Press "Next," "Yes," or "OK," as needed.
Step 5
Press "Finish" or "Restart" when prompted by the computer.