Restoring your laptop to factory settings can take up to an hour to perform, depending upon the type of laptop and operating system on your machine. Prior to performing a system recovery, you should remove any external peripherals, such as ExpressCards, PC Cards, and USB-connected printers and hard drives.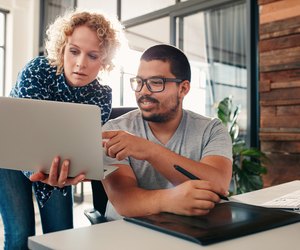 credit: Jacob Ammentorp Lund/iStock/Getty Images
Restore on a Dell
Step
Turn on the laptop. Press the "F8" key until the "Advanced Boot Options" screen appears.
Step
Select "Repair Your Computer" using the arrow keys. Press the "Enter" key.
Step
Choose your "Language," then "Next." Login with an administrator-level username and password. Click "OK."
Step
Select "Dell Factory Image Restore," then "Next." Tick the check box next to "Yes, reformat hard drive and restore system software to factory condition." Click "Next."
Step
Click on "Finish" after the computer has concluded the factory restoration.
Restore on an HP
Step
Insert the HP recovery disk. Restart the computer, and press the "F11" key.
Step
Press the "F" key to "reinstall factory settings." If your computer's operating system is damaged, you may only see "perform a full system recovery" as an option. In this case, press "R."
Step
Insert any disks if prompted by the restoration program. Otherwise, permit the computer to restart as needed.
Restore Via Disks (Generic)
Step
Insert the "Recovery Disk" or "System Recovery Disk." If you have more than one disk, make sure you insert "Disk 1" or "Part 1."
Step
Press any key to boot from CD if prompted to do so.
Step
Choose a "Full System Restore," "Restore Factory Settings," or another option worded similarly.
Step
Confirm that you want to perform the restoration. Press "Next," "Yes," or "OK," as needed.
Step
Press "Finish" or "Restart" when prompted by the computer.