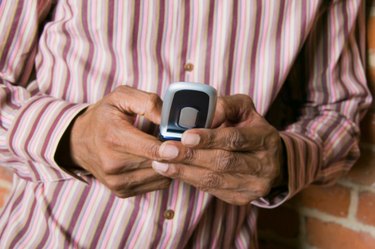 TracFone is a prepaid wireless service. Instead of purchasing a monthly plan, you pay for a certain amount of minutes. You can use these minutes to make calls or to check your voicemail. You'll first have to enter a numerical password to check your voicemail. If you've forgotten that password, you will be unable to retrieve it. TracFone does not give out user passwords because of privacy concerns. If you've forgotten or misplaced your password, you'll have to first have your voicemail access reset, then you'll have to change the password to a new combination.
How to Obtain a Temporary Password
Step 1
Decide whether you want to reset your voicemail password by using TracFone's online service (see Resources), or by calling the company's customer support line at 1-800-867-7183.
Step 2
Find your phone's serial number. TracFone will need this information to identify your phone and reset its password. The exact location of your phone's serial number will depend on your cell phone model. For a comprehensive list of models and their corresponding cell phone locations, click on the "?" symbol located next to the "Serial Number" text box. For most of the phones in the TracFone line, including its LG and Samsung models, you can access your serial number by pressing the "Menu" key, and selecting the "Prepaid" option. Press the navigation keys down until you find the option that says "Serial Number." Select and record the number on the screen.
Step 3
Call 1-800-867-7183 to speak directly to a customer service representative. In addition to asking for your phone's serial number, also be prepared with your TracFone account number and other personal information, such as name, mailing address and phone number. As long as you give the customer service representative valid information, they will be able to reset your number over the phone.
Step 4
Visit the Tracfone website and click on the "Service And Support" tab at the top right side of the homepage. Select "Voice Mail" from the drop-down box. This will lead you to a page where you'll be asked to supply your TracFone serial number and phone number.
Step 5
Copy down the information given to you by the customer service representative (from Step 3) or the online help guide (from Step 4). The result of either of these steps should be a temporary password. You'll need this information for Section 2.
How to Reset Your Password
Step 1
Call your voicemail from your TracFone by dialing "1" and pressing send. Some models will also have a button on the keypad you can press that will directly connect you to voice mail.
Step 2
Enter the temporary password you obtained in section 1. You can choose to continue to using this password. However, it will typically be something generic (sequential digits, or the same number multiple times). For security reasons, you are better off changing it.
Step 3
Select "3" to access your voice mail setup options.
Step 4
Press "2" on your phone's keypad to change your password. You will have to enter the four-digit combination twice (follow the prompts) in order to change it. Make sure you select something you will be able to remember, so you can avoid repeating the steps in sections 1 and 2 to obtain a new password.
Step 5
Hang up after receiving confirmation that your voicemail password has been successfully changed.