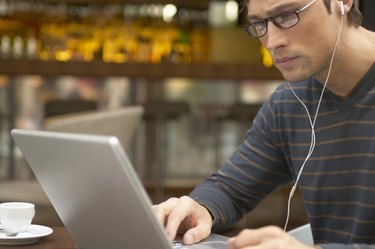 There are several different file extensions of audio files compatible with Windows Media Player, the .WAV file extension being one of them. WAV files store sounds as wave forms, which makes the required hard drive space variable. The size of the file depends on many things, including the sound type (mono or stereo) and the sampling frequency. Although most commonly used by the Windows Operating System, WAV files are compatible with Macintosh as well.
Step 1
Find the audio file that you wish to save as a .WAV file. Open it by either double-clicking the icon for the file or selecting the file and then pushing the "Enter" key on your keyboard. The audio file will open with Windows Media Player. If your computer is set to open that particular type of audio file with a program other than Windows Media Player, open your audio file by right-clicking on the icon. The right-click menu will pop up. Find the menu option named "Open With" and hover your mouse over it. A side menu will pop out of the right-click menu with a list of alternate programs available to open that type of audio file with. Find the icon and program named for Windows Media Player. Click on it to open your audio file in Windows Media Player.
Step 2
Click "File" on the menu bar on the top of the player. Depending on the edition of Windows Media Player that you have on installed on your computer, the menu bar may be hidden. Look in the Help file for your edition of Windows Media Player for how to access the menu bar. In the menu that pops out of the menu bar, click on the menu option labeled "Save as." A save window will come up.
Step 3
Type the name that you want to save your audio file as in the text box at the bottom of the save window. At the end of the file name, type ".WAV" to specify the file as a .wav audio file.