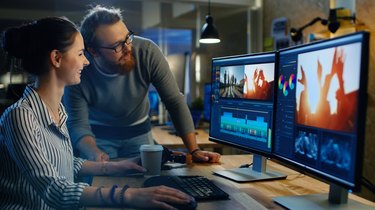 Using text phrases to find matching images online can be nearly impossible. Fortunately, Google provides an image-based search function on laptops and desktop computers. Because of its large search database and streamlined interface, Google has become the tool of choice for finding pictures that match online.
Google Reverse Image Match
Google calls their image match function reverse image search. The top recommended browser for Google reverse image search is Chrome, Google's own browser. Firefox and Safari browsers are also supported. On a computer, it's available from the Google Images page (images.google.com), which you get to by clicking Images on the main Google search page.
Click on the small camera icon in the search box to display the Search by image dialog box. Here you can choose to Upload an image from your computer to use for matching. Note that Google will store your image on their site for at least seven days after you upload it, although you won't be able to access it in your search history. Instead of uploading an image, you can do an online photo match by typing or pasting in the image's URL in the dialog box. In the Chrome browser, you can find this URL by right clicking on an image in most browsers and selecting Copy image address from the menu. Once you've copied the image address, you can paste it into the Paste image URL field in the dialog box.
Next, click the Search by Image button. Google will display a page of results that may include websites that contain the exact image as well as visually similar images. You may also see other different-sized matches for your search image. In addition, the search results typically include text matches for keywords and other identifying words associated with the image. For example, a photo of a movie star will probably include a link to their IMDb page among the search results. You may also see that Google has used image processing to learn about the picture, so that a picture of a coffee cup shows the definition of cup in its search results, even though the photo had no keywords.
Google Image Match Shortcuts
You can do a quick Google reverse image search using drag and drop in a Chrome or Firefox browser window. Locate an image file on your computer, select it by clicking and then drag it into the Google search box. Do a quick search on an image on a webpage by right clicking on the image and selecting Search Google for image from the popup menu. The search results will be displayed immediately when one of these shortcut actions is completed.
Google Reverse Image Search on Smartphones
The app version of Chrome available for Apple and Android smartphones doesn't include the reverse image search function on the Google Images page. You are limited to searching for images using text phrases. However, if you click on the three dots at the top of the Chrome browser and toggle on Desktop site, you'll be able to use the desktop version of Chrome on your smartphone. The camera icon should be available in the Google Images search box and you can click on it to access the Search by image dialog box and initiate a reverse image search using photos on your camera roll.
Reverse Image Search Alternatives to Google
Besides Google, there are several alternative tools and apps for doing a reverse image search online. If Microsoft's Bing is your search engine of choice, it offers similar image search functionality to Google. Another alternative is TinEye.com, a search engine devoted entirely to reverse image searches. The website works from both desktop computers and mobile devices and offers the advantage of not saving uploaded images after a search is complete.