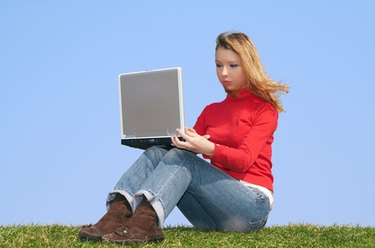 If you want to add more friends to your Facebook profile page, all you need is their current name. It can get a bit tricky to find friends who have gotten married and have had their name change, but you can add filters to your search results to help narrow it down a bit. If you know where they currently live, work or what school they attend, you are one step closer to finding them.
Step 1
Log into your Facebook account. You will be taken to your home page. This is where everyone shares their posts with everyone else.
Step 2
Click on the word "Profile" located in the top right-hand part of the screen. You will be taken to your Profile page.
Step 3
Click on the shadow people icon located directly next to the word "Facebook." It will say "Friend Requests" next to it after you click it.
Step 4
Look to the right of those words, and you will see "Find your friends" in small blue writing. Click on those words. You will be taken to a search page to help you locate your friends.
Step 5
Scroll to the bottom left-hand side of the page. You will see a magnifying glass withe the words "Search for People." Below, there is a box that says "Enter a name or email."
Step 6
Type in the name of your friend and click on the small blue hourglass button directly below the box. You will be taken to another screen with a list of everyone on Facebook with that name. If you do not immediately see your friend, use the filters at the top of the screen.
Step 7
Type in the location, school or workplace of your friend in the appropriately labeled boxes. Click the "Refine Search" button to find your friend. If found, click the words "Add as friend."
Things You'll Need
Computer

Internet connection

Facebook account
Tip
Your friends will have to accept your friend request before they show up on your profile. If you have gotten married and changed your name, type your old name into the message box, so they will know who you are.
Warning
Do not get disappointed if your friend request is not accepted. Things change and people simply may not remember you, or they may be in a place in their lives where they want only a small group of friends to talk to regularly. Facebook can get a little strange sometimes when you get requests from people you haven't spoken to since the fifth grade. Some people are just not interested in having a high number of friends on their profile page. Do not take it personally.