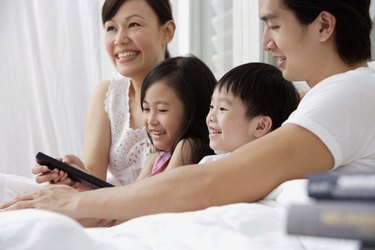 With more than 22 million U.S. subscribers in mid-2011, Netflix provides both online video streaming subscriptions and the company's original offering of DVD rentals by mail. In the second quarter of 2011, almost 75 percent of Netflix's new subscribers opted for the streaming-only subscription, receiving their content on computers, mobile devices and home entertainment components like game consoles, TVs and Blu-ray players. Network-enabled Vizio TVs and Blu-ray players let viewers have access to their instant queue, suggestions and the ability to search for movies and TV shows through the Netflix Vizio Internet App.
Step 1
Press the "Netflix" button at the top of the Vizio remote or press the Vizio Internet Apps button in the middle of the remote, then press the "Right" or "Left" arrow buttons on the remote to scroll to the Netflix app and press "OK."
Step 2
Press the "Down" arrow button to highlight "Search."
Step 3
Press the "Right" arrow, then type your search term with the QWERTY keyboard on the back of the Vizio remote, or navigate through the on-screen keyboard to enter the search term. As you type, the search function will make suggestions based on the letters you enter. Titles in bold with a play button beside the year are available to stream to your Vizio TV.
Step 4
Press the "Down" arrow to select the movie or TV show you want to watch. Press "Play" or "OK" on the remote to begin streaming.
Tip
Select a movie not available for streaming to get three suggested movies that are available. Press the "Right" button on the remote to highlight the suggested movie and press "Play" or "OK."