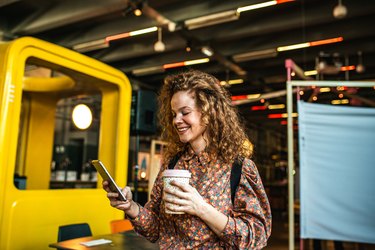 There is no central Instagram block list to check out. Instead, in order to see whether you've blocked an individual account, you need to visit its Instagram profile page and use the menu provided there. You can also use this menu to block or unblock someone. When you block someone, they are prevented from viewing your images, videos and profile, but users are not notified when they are blocked.
Seeing Whether You Blocked Someone
Step 1: View Blocked Instagram Member's Profile
Locate the user whose profile you want to view. Tap the Search icon on the bottom of the Instagram app, enter the name of the account you're looking for in the field at the top of the screen and then tap the account on the list of search results. Alternatively, if you follow the user, tap the Profile icon in the bottom-right corner of the screen, open the list of accounts you follow and tap the account name there.
Step 2: Access the Menu
Touch the Menu icon in the top-right corner of the account's profile page.
Step 3: Look for an Unblock Option
Look at the provided menu. The account is not currently blocked if Block User is displayed on the pop-up menu.
If Unblock User is displayed, then you've blocked this account. You can do nothing if you want to continue to have the person blocked. Otherwise, you can touch Unblock User to remove blocking for the account.
If you want to unblock the person, tap Yes, I'm Sure to remove blocking for the selected account.
Consequences of Blocking on Instagram
When you look at blocked Instagram profiles, you can no longer see their images or videos posted, and their post, follower and following counts will display as zero. However, you'll still be able to see their biography, profile image and user name when you view blocked Instagram profiles.
When you block someone, his comments and likes remain on your photos and videos. You must delete the user's reactions and comments manually.
Users you've blocked can still mention you in their posts, and you will receive notifications about these posts through your account. To stop these notifications, tap the Menu icon on the person's profile and select Ignore Posts From This User. You can also report abusive posts to Instagram by tapping the Menu icon and selecting Report Inappropriate.
Gain Access to Private Accounts
When an account is set to private, you are blocked from viewing its images and videos. You must request access from the owner in order to view this content. Visit the person's profile and touch the Follow button to send a follow request to the owner. Once you've been approved as a follower, you are no longer blocked from viewing the account's content.
Make Your Account Private
When you sign up for Instagram, your account is public by default, which means that all users can view your images and videos. Set your account to private in order to block everyone from viewing your content. Users must then send a follow request to you in order to see your images and videos.
Step 1: Access Your Profile Menu
Open your profile page and tap the Menu icon in the top-right corner.
Step 2: Toggle to Private
Toggle the Private Account switch to the On position to set your account to private.