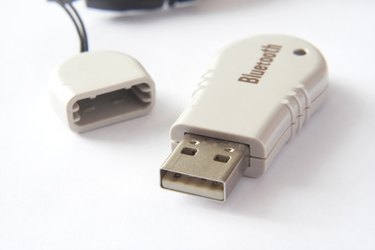 Bluetooth wireless connections are popular in mobile electronics for their relatively high speed and low power usage. Smartphones and PDAs with Bluetooth adapters usually also have some type of internal data storage, which you can keep media and document files in, and take them on the road. Windows 7's Bluetooth drivers allow you to send individual files to a Bluetooth device's data storage, but they do not support sending whole folders. There is a trick that will allow you to get past this limitation, though.
Step 1
Open a file browser and navigate to the folder you wish to send.
Step 2
Right-click on the folder and select "Send to Compressed (zipped) folder." This creates a compressed copy of the folder. Pick a name for the created file.
Step 3
Right-click on the compressed copy and click "Send to," then select "Bluetooth."
Step 4
Click the button that says "Click here to send to X," where X is the name of your Bluetooth device.
Step 5
Unzip the compressed folder on your Bluetooth device. You may have to install some third-party software to add ZIP file compatibility to your device. Resources 1 through 3 link unzipping software for Windows Mobile, Blackberry and Android devices, respectively. There is no officially supported unzipping tool available for the iPhone, unfortunately.