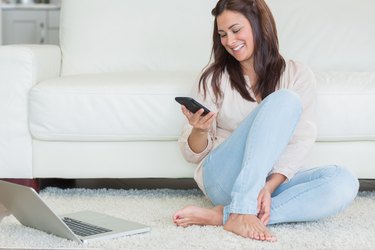 While the Apple iPhone offers a variety of ways to transfer photos and other files, your options are rather limited when it comes to transferring music. If you want to send a music file on your iPhone to someone, it needs to be accessible in the cloud using a service like Dropbox. Both the Dropbox and Microsoft OneDrive apps can store MP3 files and play them on an iPhone. For songs in your iPhone's Music app, these can be shared only with other devices using your Apple ID. Apple's Music app doesn't have options for sharing songs or receiving them except from the iTunes Store on your own computer using iTunes.
Sending Songs to Others
Step 1
Upload a music file to a service like Dropbox, Microsoft OneDrive or Google Drive.
Step 2
Download and install that service's app on your iPhone. Launch the app and sign in with your account username and password.
Step 3
Locate the song in the app and tap the "Send" button. If you don't see the button, tap the Apple "Action" icon and select "Send."
Step 4
Select a method for sending the song to someone, including an email or text. Enter the person's email address or phone number and tap "Send." When your friend clicks the link, she can play the song or save it to her computer.
Getting Songs to and From Your IPhone
Step 1
Download and install Apple iTunes to your computer if you don't have it already. Click the "Store" menu and select "Sign In." Use the same Apple ID email address and password you used to register with iTunes or the App Store on your iPhone.
Step 2
Add a song you purchased on your iPhone by clicking the "Library" button in the top right corner of the Window to change it to "iTunes Store." Click "Purchased" in the Quick Links section. Click the "iCloud" icon on any album or beside any song to download the music to your computer.
Step 3
Connect the iPhone to your computer's USB port using its Lightning cable to send a song from iTunes to the iPhone. Click the "iPhone" button, then the "Summary" tab and select the "Sync Only Checked Songs and Videos" option. Click the "Music" tab, check the songs you want to import and click the "Apply" button.