Your friend's phone rings to the tune of your favorite song. You want to have it for your own ring tone, but your friend doesn't know where she got it in the first place. No problem. She can send it to you.
Send a Ring Tone From an Android Phone
Sending a ring tone can be as easy as looking up and sharing a file -- if you have an Android phone.
Step 1: Open Your File Manager
Step 2: Find Your Ringtones Folder
Search the folders on your phone for one called Ringtones. Other folders that may contain ring tones are those for apps with which you download ring tones, such as Zedge, as pictured here. Other apps might include Myxer Ringtones or ToneCrusher.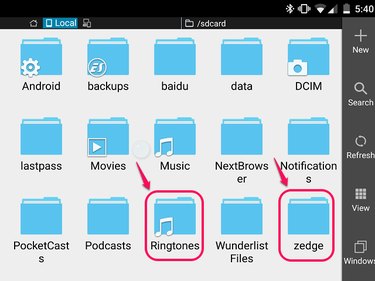 Step 3: Select a Ring Tone
Select the ring tone, or ring tones, that you want to send, and use the three-dot menu to expand the options. Tap Share.
Step 4: Select Email for Sharing
Select your email client to send the ring tone. Pictured here, Inbox by Gmail -- Google's Material Design mail client -- is selected. SMS is not an option since, at the time of publication, Android allows only pictures or recorded messages as text message attachments.
Next, enter the email address and any message you want to send along with the ring tone.
Send a Ring Tone from an iPhone
IOS does not have a file manager onboard to easily view files like Android does, but you can drag and drop ring tones from iTunes -- which means that a PC has to get involved. You cannot send a ring tone directly from your iPhone to another phone.
Step 1: Select Your Device in iTunes
Open iTunes and connect your iPhone to your computer. When the phone icon appears at the top of the screen, select it.
Step 2: Set Tones to Sync
Select Tones from the left sidebar, under Settings. Check the box next to Sync Tones so that you can view ring tones through iTunes.
Step 3: Open the List of Ring Tones
Select the three-dot icon to expand the content menu. Select Tones to open a list of your ring tones.
Step 4: Drag and Drop to the Desktop
Drag and drop the ring tone or tones you want to share to your desktop.
Step 5: Attach the Ring Tone to an Email
Open PC's Email application and initiate composing a New Message. Select the icon for an Attachment and browse to the Desktop to select the ring tone. Fill in the recipient's address, a subject line and a message, if needed, and then click Send.
Send a Ring Tone From Your Windows Phone
Finding your ring tones on a Windows phone is similar to the process on Android. Like Android, a file manager -- in this case, File Explorer -- comes preloaded on some Windows devices, but if you don't have it, you can download it for free from the Windows 8 app store. When you open File Explorer, go to the Ringtones folder or to any folders for apps with which you download or create ring tones. Select the ring tone and tap the Share option from the main menu.
Receiving Ring Tones
Your friend sent that ring tone you love, and you don't know what to do now.
For iPhone: Tell your friend to send the ring tone via email so you can open it on your PC, where you can download and save the attached ring tone. Then, open iTunes, and, using the same steps as for sending a ring tone, navigate to your iTunes list of Tones. Simply drag and drop the ring tone into the list.

For Android: You can download a Gmail MP3 attachment, such as a ring tone -- but only after installing an add-on from the Play store. Such apps include Save My Attach, Gmail Attachment Manager or Attachment Inbox. These add-ons enhance Gmail's abilities to either let you download the attachment, which goes to your Download folder by default, or save directly to your Ringtones folder. If it goes to your Download folder, use your file manager to find it, long-press on the file and cut or copy it, and then paste it into your Ringtones folder.
For Windows Phone: As with the iPhone, your PC has to get involved. Attach your phone to your computer, and then after you've saved the ring tone attachment from your email to your PC, open File Explorer and drag and drop it from where you saved it to your Ringtones folder on your phone.