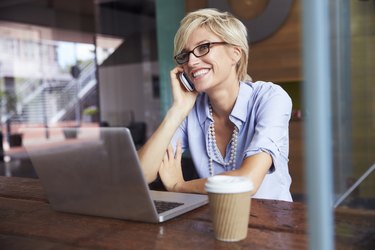 Digital Living Network Alliance (DLNA) is a media sharing standard designed to allow networked PCs, printers, consoles, tablets, phones and other devices to communicate and share media such as photos, video and music over a wireless network. You do not need much technical knowledge to set up the network because DLNA devices recognize and share media among one another automatically. Each DLNA device can identify other DLNA devices on the network and automatically retrieve shared media from them. Windows Media Player on Windows 7 fully supports DLNA and can be configured to share DLNA-compatible media files on your network.
Step 1
Open the "Start" menu and type "media streaming" without quotation marks in the "Search" bar. Click "Media streaming options" from the list of results.
Step 2
Type a name for the DLNA media library you are creating in the "Name your media library" field at the top of the dialog box.
Step 3
Select the drop-down box next to each DLNA-compatible device on your network. These devices are automatically detected and listed. Click "Allowed."
Step 4
Click "Customize" next to each allowed system and choose specific restrictions if you wish to use them. For example, select "Only rated 3 stars or higher" to share only media you have rated with three or more stars. Click "OK" to save your settings.
Step 5
Open the "Start" menu and type "windows media player." Click "Windows Media Player" from the list of results.
Step 6
Click "Library" if Windows Media Player did not automatically open in the "Library" view.
Step 7
Click "Stream" on the toolbar, then select "Automatically allow devices to play my media." Your system is now configured to stream to DLNA devices.