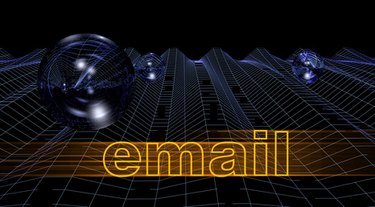 Whether you have an email account supplied by your Internet service provider or one offered by free email services like Gmail, Hotmail or Yahoo!, you can use Microsoft Outlook to log in to your account, download your messages and save them on your computer.
Almost all email services offer the POP3 mail system for receiving messages, and setting up the protocol in Outlook is a simple task you can complete in a couple of minutes.
Step 1
Open Microsoft Outlook on your PC. Click the "File/Info" menu option and then "Account Settings." Click and select "Account Settings" from the drop-down list on the menu.
Step 2
Click the "New" option on the "Email" tab and then click "Email Account." Click the "Next" option on the pop-up screen to continue.
Step 3
Click the "Manually configure server settings or additional server types" check box, and then click the "Next" button.
Step 4
Click "Internet E-Mail" and then the "Next" button.
Step 5
Click the "Microsoft Exchange, POP3, IMAP, or HTTP" option in the "Add New E-Mail Account" dialogue box. Click the "Next" button.
Step 6
Type your name in the "Name" field under the "User Information" header. Next, enter your full email address in the "E-Mail Address" text box. Use the following format: "yourname@yourisp.com." Your Internet service provider (ISP) or email account provider should have provided you with information already.
Step 7
Enter the incoming email sever of your ISP or email account provider. Again, the ISP or account provider should have supplied you with this information. In most cases, the incoming server will be something like "mail.yourisp.com." Alternatively, the company may have provided you with an IP address to enter, such as "172.156.0.1" or something similar.
Step 8
Enter the address supplied to you by your ISP or email account provider in the "Outgoing mail server (SMTP)" text box. Again, if the ISP or account provider provided you with an IP address, enter it instead.
Step 9
Enter your email account user name in the "User name" text box under the "Logon Information" header.
Step 10
Type your password in the "Password" text box. If you want Microsoft Outlook to remember your password (so you do not have to enter it each time you check your email), click the "Remember password" option box.
Step 11
Click the "Test Account Settings" button. Outlook will attempt to log on to your email account and send a test message. If the test is successful, you will receive an Outlook welcome email in your inbox. If the test is unsuccessful, check the account information to ensure you entered it correctly.