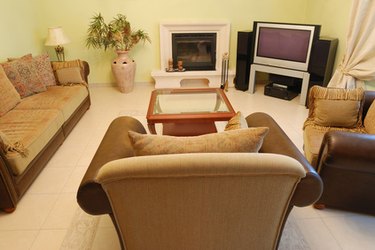 Yamaha is one of the few companies that makes the instruments that eventually get played back on one of its audio systems. A maker of home theater gear from inception, Yamaha now makes receivers that set up via an automated process called YPAO (Yamaha Parametric Room Acoustic Optimizer). This system quickens the calibration and equalization process, setting and saving these calibrated settings in memory. Although setting up the speakers in a Yamaha system is not unlike other surround systems, the YPAO setup is integral to getting the best results.
Step 1
Determine the wire lengths required for each speaker run from the receiver. Cut these lengths using the wire snips. Cut off a 1/2 inch of insulation from each end of all speaker runs using the wire stripper.
Step 2
Twist up the binding posts on the rear of the Yamaha receiver. Insert the appropriate speaker wire into its respective terminal. Twist down the binding posts until the wires are secure.
Step 3
Unscrew the binding posts on the speakers. Insert the other end of the wires coming from the receiver into the proper speaker. Screw down the posts to secure the wires.
Step 4
Plug in the subwoofer cable from the "SUB" out on the rear panel of the Yamaha receiver. Route this cable to the "LFE" in on the rear of the subwoofer. Plug the sub into AC power, turn it on, then set the volume knob to the center position.
Step 5
Insert the YPAO microphone into the front 3.5 mm jack labeled "MIC." "Press Enter to Start" appears on the display. Place the microphone on a camera tripod at ear level. Thread the YPAO mic onto the male threads on the tripod, with the mic pointing directly at the ceiling.
Step 6
Press "Enter" on the Yamaha remote. Leave the measurement area to prevent causing interference with the microphone. Scroll down using the directional buttons on the receiver's remote until "Measurement" is displayed. Press "Enter" to begin the process.
Step 7
Press "Enter" on the remote when the display reads "Select:Save." The receiver saves the acoustic measurements, and setup is complete.