Microsoft Excel is powerful spreadsheet software that you can use to keep track of your business expenses and income. Setting up bookkeeping in Excel can seem like a daunting task, with dozens of factors to consider when setting up the worksheet. Instead of guessing about which items to include in your books -- and possibly missing important information -- use a ready made Excel template with multiple worksheets to track your business's profit and loss over time.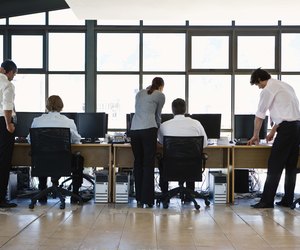 Step
Navigate to the Microsoft Templates website at office.Microsoft.com/en-us/templates/ and then type "expense income template" into the Search text box.
Step
Click "All Products" and then click the "Excel" radio button.
Step
Click "Search." A list of results will appear.
Step
Mouse over "Expense Income template" and then click "Download."
Step
Open Microsoft Excel.
Step
Click the "File" tab and then click "New."
Step
Click "My Templates" and then click "Browse" to locate the template you downloaded in Step 4.