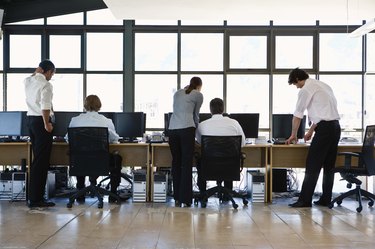 Microsoft Excel is powerful spreadsheet software that you can use to keep track of your business expenses and income. Setting up bookkeeping in Excel can seem like a daunting task, with dozens of factors to consider when setting up the worksheet. Instead of guessing about which items to include in your books -- and possibly missing important information -- use a ready made Excel template with multiple worksheets to track your business's profit and loss over time.
Step 1
Navigate to the Microsoft Templates website at office.Microsoft.com/en-us/templates/ and then type "expense income template" into the Search text box.
Step 2
Click "All Products" and then click the "Excel" radio button.
Step 3
Click "Search." A list of results will appear.
Step 4
Mouse over "Expense Income template" and then click "Download."
Step 6
Click the "File" tab and then click "New."
Step 7
Click "My Templates" and then click "Browse" to locate the template you downloaded in Step 4.
Tip
You can also download a template from within Excel. Instead of navigating to the Microsoft Templates website, click "File," then click "New" and then click "Office.com Templates" to search the online template library.