Sharp televisions automatically scan for available channels on your cable or antenna when you go through the initial setup. This feature prevents accidentally tuning into a channel that does not have a broadcaster in your area. If you move, your cable company adds new channels, or a new local broadcasting station comes online or changes frequencies, the television will need to scan again to pick up the new channels. You can access the channel scan through the TV's menu.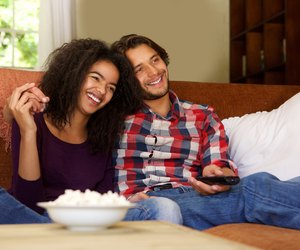 credit: m-imagephotography/iStock/Getty Images
Step
Press the "Menu" button on the remote control to bring up the main menu.
Step
Scroll to "Initial Setup" using the left and right directional buttons.
Step
Highlight "Broadcasting Setup" using the up and down arrow buttons, and press "Enter."
Step
Select "CH Search" and press "Enter." The next screen depends on whether your TV is connected to cable or an antenna.
Step
Choose "Start" if your TV is connected to an antenna.
Step
Select "Analog and Digital Search Start" if you are connected to cable with analog and digital stations. Choose "Analog Search Start" if your cable connection is analog only. Once the channel scan is finished, the television will ask if you want to block scrambled channels. Select "Yes" or "No," and press "Enter."