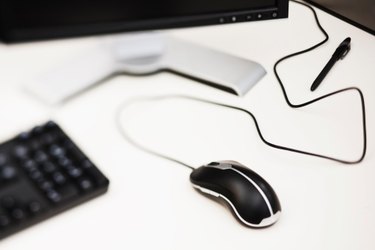 Microsoft's Exchange Server is a program hosted on a local server that allows you to compose, work with and send messages to people on the same server without being connected via the Internet. Once you set it up as profile within Outlook, you can use Outlook's offline features to send and receive email through the server. This saves you the trouble of having to use two different programs to manage mail and contact information.
Set Up Microsoft Exchange Server Manually
Step 1
Open Outlook and navigate to the Control Panel. Click on "Mail and Fax" to see the profiles you already have set up.
Step 2
Click "Show Profiles" and choose the one you want to change. Click on "Properties."
Step 3
Locate the "Services" tab and click on the "Add Service" button. Here you'll be able to add Exchange Server to your profile. Choose "Microsoft Exchange Server" from the dialog box and hit "OK."
Step 4
Enter your Exchange Server information, including the name of the server and your specific mailbox name. If you've never used your mailbox, it's a good idea to check to make sure it's all set. You can do this by clicking on "Properties" in the Exchange Server profile. Go to "General" and "Check Name." If the server and mailbox name are underlined, you're good to go.
Choose Settings
Step 1
Choose your connection settings. Go to "Show Profiles," "Microsoft Exchange Server" and "Properties." In the "General" tab, you choose how you want to work with messages. By default, Outlook and Exchange will work online, but you can change this to "Work offline" and choose a connection type every time you log in.
Step 2
Set security and encryption preferences in the "Advanced" tab. If you will be working primarily offline, then de-select the "Use Network Security During Logon" box and select the "When Using Dial-up Networking" box in the Encrypt Information choices.
Step 3
Click the "Offline Folder Settings" button to choose the encryption settings for your offline files. You can choose to not encrypt, use the default encryption setting or encrypt with a high degree of protection. High encryption is great from a security standpoint, but it makes it tough to compress files.
Step 4
Set a time of day when you will connect to the Internet to get messages from your remote mailboxes. In the "Settings" panel, click the "Remote Mail" tab. Click "Schedule" and enter a time in the "check at" box. Alternatively, you can choose how frequently to check your mail by adding a time interval in the "Every" box. Click "OK" to save your settings.