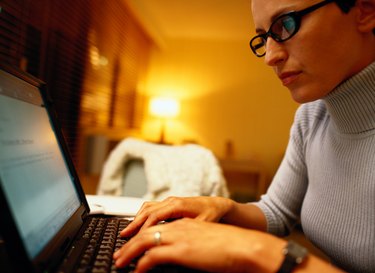 Windows 8.1 has the same shutdown options available in previous versions of the operating system. You can completely power down your computer, place your machine in a state of hibernation or put it to sleep. However, unlike previous versions of Windows, you can access shutdown options via other areas of the Windows 8.1 operating system besides the Start button, such as the Charms bar.
Turn Off Your Computer
When you select the option to shut down your computer, Windows automatically prompts you to save your data before completely powering down your machine. In Windows 8.1, you can turn off your computer from the Charms bar, the Start screen and through the Start button. To shut down from the Charms bar, press "Windows-I," select the "Power" button and then choose "Shut Down." To turn off your machine from the Start screen, press the "Windows" key, click the "Power" button and then select "Shut Down." To use the familiar Start button, right-click the "Start" button, hover your cursor over "Shut Down or Sign Out" and then click "Shut Down."
Use the Hibernate Mode
The Hibernate mode saves your computer's state by storing the data in the Random Access Memory -- or RAM -- to the machine's hard drive before it turns off. When you turn your computer back on, it resumes the state it was in before you put it in hibernation. For example, all open documents and running programs reopen exactly as you left them. This is an ideal option if you don't have access to power and won't be using your computer for a long period of time. Unlike the Shut Down and Sleep options, you need to first enable the Hibernate feature from the Shutdown Settings menu of the System Settings window before it appears as one of the options on the Shut Down menu. The option to hibernate your computer is also available on the Start screen, the Start button and the Charms bar.
Put Your Computer to Sleep
A computer in sleep mode uses enough power for the RAM to maintain its data and cuts power to other areas, such as the monitor. Similar to the Hibernate feature, you can resume what you were doing when you wake up your computer from sleep mode. Sleep mode uses more power than the Hibernate option and also restores your computer to its previous state in less time. Similar to the Shut Down and Hibernate option, you can put your computer to sleep from the Start screen, the Charms bar and the Start button. In addition, if you have a laptop, pressing the machine's Power button or closing its lid automatically activates the sleep mode. You can change either default action by changing the settings in the System Settings window.