In Adobe Acrobat, you can split a PDF document into one or more smaller documents. You can split a document by number of pages, file size or by the top-level bookmarks in the PDF file. Splitting a document by number of pages or size creates multiple documents with the same number of pages or with the same size that you specify. You cannot split documents with fewer than two pages.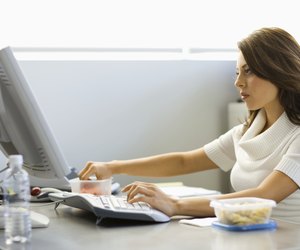 credit: Siri Stafford/Digital Vision/Getty Images
To split a single page into multiple pages, resize the PDF using the Adobe PDF Printer, use tiled printing and resave the PDF.
Split PDFs Into Multiple Documents
Step
Open the PDF in Adobe Acrobat, click "Document" and choose "Split Document."
Step
Click the "Number of pages" radio button and type the maximum number of pages that each split document has. For example, you can split a 2-page document into half and create two PDF documents, each with one page, by typing "1."
Step
Click "File Size" and type the maximum file size, in megabytes (MB), for each split document. For example, if you type "2," the PDF is split into smaller PDF files that are no larger than 2 MB.
Step
Split a document according to the top-level bookmarks in the PDF by clicking "Top-level bookmarks."
Step
Click "Output Options" to configure additional options, such as where you want to save the PDF files and how you want the files to be named. Click "OK."
Step
Apply settings to and split additional documents by clicking "Apply to Multiple" and selecting additional PDF files to split; then, click "OK."
Step
Click "OK" to split the document and save the PDF files in the specified location.
Split a Page Into Sections
Step
Open the one-page PDF that you want to split, click "File" and select "Print." Select "Adobe PDF" as the printer you want to use and click "Properties."
Step
Select the page size that you want to use from the "Adobe PDF Page Size" drop-down box, or click "Add" to create a custom size. The dimensions you use are smaller than the dimensions for the existing PDF.
For example, if you want to split a letter-sized document (8.5 inches wide by 11 inches long) into two pages horizontally, set a custom paper size to 8.5 inches in width and 5.5 inches in height. The PDF will be resized to 8.5 inches by 5.5 inches.
Step
Click "OK" to close the dialog box and select "Tile large pages" from the "Page Scaling" drop-down box in the "Print" dialog box.
Step
Type the tile scale of the PDF document in the "Tile Scale" field, set the overlap value, and choose if you want to include cut marks or labels in the PDF.
Step
Click "OK," type a name for the file, choose where you want to save the file and click "Save."