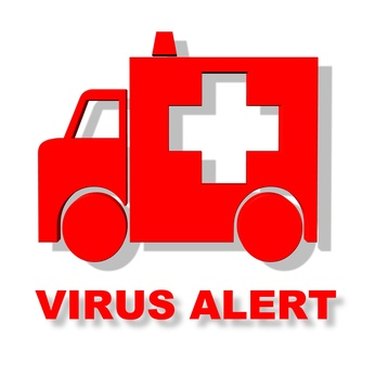 Tracking programs allow hackers to record everything you do online, giving them access to personal data such as passwords and financial information. If your computer becomes infected with malicious programs and viruses, install anti-virus software or spyware removal tools to eliminate them and stop tracking. Enable your Windows Firewall to prevent future attacks from malicious programs.
Step 1
Download anti-virus software from a reputable website (see Resources), on another computer not infected with the virus. Select "Download" and choose "Save File" to download the software. Transfer the downloaded anti-virus software to a writable CD for use on the infected computer.
Step 2
Place the writable CD into the computer's CD-R or RW drive. Click "Burn files to disc using Windows Explorer" in the "AutoPlay" dialogue box. Choose a name for your anti-virus CD. Open the folder that contains the anti-virus software and drag the installation file into the empty CD folder. Press and hold the "Ctrl" key and click to select multiple files. Click "Burn to disc" on the toolbar and follow the step-by-step instructions. Remove the CD when finished.
Step 3
Enter "Safe Mode" to install the anti-virus software on the infected computer. Remove all peripheral devices and discs, then turn on or restart the computer. Press "F8" to enter the "Advanced Boot Options" menu just before the Windows 7 splash screen appears. Use the arrow keys to select "Safe Mode" and press "Enter." Log on using an account that has administrator rights. Place the disc with the antivirus software into the CD tray of the infected computer. Double click the program on the CD and click "Run" to install. Follow the step-by-step instructions.
Step 4
All anti-virus programs have different instructions. Open your software, such as AVG Free antivirus. Select "Scan whole computer" or its equivalent in your antivirus application to allow it to search for malicious programs. View the results when your application has finished scanning. Click "View virus vault" or equivalent to see contained and fixed malicious programs and viruses. Click "OK."
Step 5
Enable Windows Firewall to prevent computer tracking software from infecting your computer in the future. Go to the "Start" menu and click "Control Panel." Type "firewall" in the "Search Control Panel" box. Select "Windows Firewall" and click "Turn Windows Firewall on or off." Enter an administrator password if prompted. Click "On" under Windows Firewall settings and click "OK."
Things You'll Need
Antivirus software

Recordable or writable CD
Tip
Use various spyware and malware removal tools if necessary to remove computer tracking software.
Warning
Contain and remove computer tracking viruses as quickly as possible to prevent infection of your home network.