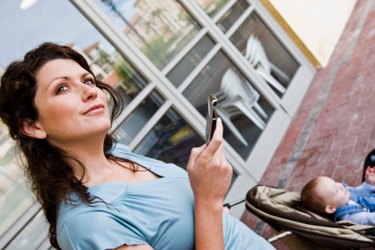 TracFone is a prepaid wireless carrier that allows you to customize your plan by purchasing, at any given time, just the amount of minutes that you want to use. In addition, you can switch your phone by purchasing a new model, whenever you like. If you have purchased another TracFone, you must activate the new device on your account and transfer the minutes from your old phone to your new phone before you can start using the new one.
Step 1
Turn off both phones and remove the battery from its compartment. Locate the serial number inside the compartment for both phones and write it down. Make sure you label the serial numbers "New" and "Old" so you know which serial number goes with which phone.
Step 2
Put the batteries back into both devices and dial 800- 867-7183 from a landline phone to reach a TracFone customer service agent.
Step 3
Inform the representative of your intent to switch phones and minutes. Provide the representative with the information requested of you to verify your wireless account. Provide the representative with the serial numbers from your old and new TracFones.
Step 4
Verify the amount of minutes you have remaining on your device, when prompted to do so. The minutes may be transferred to a holding queue, which is where they will remain until your new phone is activated. If this is the case, you will be provided with a queue claim number.
Step 5
Transfer the SIM card from your old phone and insert it into your new phone. Depending upon the model of your phone, the SIM card may be located inside the battery compartment, underneath the battery.
Step 6
Turn on your new TracFone and follow the prompts to activate your device. Wait for the representative to transfer your minutes onto the new phone.