Accessing the contacts that you store with the most popular email service providers -- including Google -- requires just a few simple mail account setting tweaks on your iPhone. In fact, you can sync all of your contacts from multiple sources with your iPhone and unify any resulting duplicate contact records straightforwardly. But, if Gmail is the most important of them all, then it's important that you also make it your default account. This will ensure that your Gmail captures all new contact information you input directly onto your device going forward.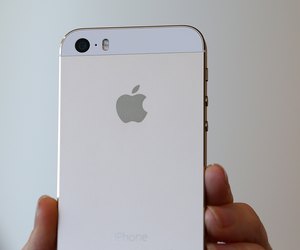 credit: Justin Sullivan/Getty Images News/Getty Images
Step
Tap "Settings" on the Home screen. Next, touch "Mail, Contacts, Calendars."
Step
Tap "Add Account," followed by "Google" on the Add Account screen. If you've already added your Gmail account to the iPhone, skip ahead to Step 4.
Step
Type your email address and password in the fields that request them on the Gmail screen. Optionally, type in an account name as well, and replace the automatically generated description with a more memorable or specific one – for example, "Work Contacts," "Builders," or "Family and Friends," then tap "Next."
Step
Toggle the "Contacts" switch to the "On" position. The switch should appear green. Touch "Save."
Step
Tap "Contacts" on your Home screen. Your Gmail contacts automatically sync to the iPhone.