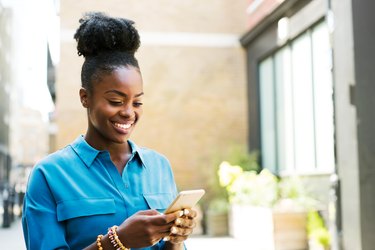 The ability to track a Verizon phone is made possible by several programs. Tracking a phone should only be done with permission from the phone's owner. Tracking without permission is unethical and may have legal consequences. Verizon offers internal tracking options, but using one of the many tracking and location-sharing applications available is also possible.
Reasons for Tracking a Phone
Tracking a phone is common, and the feature has a number of uses. You can share locations for mapping routes and maintaining contact with another person. Phone tracking helps in the case of theft because you can share the phone's location with law enforcement.
Tracking also helps to find your phone when you misplace the device. You can log on to a computer or a different phone with permission to track your phone. Phone-tracking acts as a parental control in some cases, and it even serves creative purposes. You can use phone tracking to monitor participants on a scavenger hunt, for example. The potential uses are endless, and pinpoint accurate GPS makes phone-tracking highly effective.
Regardless of your reason, tracking a phone on the Verizon network or any network for that matter is possible in a few steps. Choosing your method of tracking is the first step. After you make that determination, you can quickly load the tracking program, assign permissions and operate the program to maintain location-tracking for your device.
Verizon Location Agent
Verizon once offered a program called Family Locator that allowed family members to track locations on the phones held within the plan. The Family Locator program was absorbed by the Smart Family option, which offers a more robust set of features.
The Smart Family program is limited to phones operating under the same plan. The program is designed to offer parental control options that permit controls over content available, purchases and location-tracking. The plans are common for families with high school-age kids who have cellphones but whose parents want to retain some control over how the phones are used. This Verizon agent download is preinstalled on the phone if it is purchased through a Verizon store.
If you are not involved in a family plan, loading a third-party application to manage your location-tracking needs is a good move. The third-party programs are easy to control and adjust as needed.
Third-Party Tracking Apps
The phone's operating system, not the service provider, influences the apps that are available for phone-tracking. On an Android device, you can locate a lost phone through Google by setting up location-tracking in the device manager on the phone.
Allow location-sharing through your account. This means you can log in to Google on a different computer and view the phone location. It works because the devices are all managed under a single Google account, and only you have access to that account. The exclusive access means only you are viewing the device location, and other people cannot track your location and phone movement.
On iOS for iPhone and iPad devices, set up tracking through the Find My iPhone app. This app functions in a similar fashion as the Android device manager. You log in to iCloud on a different device and use the same account to track your phone. You also have the option to send a noise through the phone to help locate it audibly or to erase it if it has been stolen.