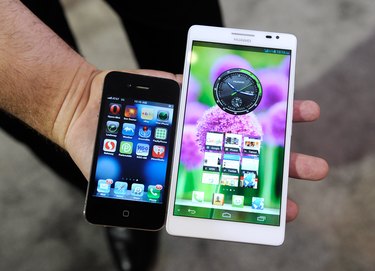 Switching to a new computer often requires numerous backup discs, program installations and the use of data-transfer software to successfully move all of your data. With the iPhone, however, you need only to plug your device into the new computer and sync it to the new computer. You can also find previous backups of your phone in your computer's application backup folder, which can also be copied to your new computer.
Step 1
Connect your iPhone to your computer.
Step 2
Open iTunes. For Macs, click the "iTunes" icon on your dock, or click "Go" at the top of your screen and select "Applications" from the drop-down menu. For PCs, click "Start," select "All Programs," choose "Apple" and click "iTunes."
Step 3
Click the iPhone's name under the Devices section in the iTunes side panel. Click the "Restore" button and click "Backup" to back up your iPhone to the new computer.
Step 4
You can also copy previous iPhone backup files. Click the "Finder" icon on the dock and click the "Home" icon in the sidebar. Open "Library," open "Application Support," open "MobileSync" and choose "Backup" to access your iPhone backup files.
Step 5
Insert a blank CD or DVD into your old computer's disc drive and click the "Finder" icon. Drag the "Backup" folder to the blank disc icon in the sidebar. Click the blank disc icon and click the "Burn" button.
Step 6
Remove the disc from your computer and insert it into the new computer's disc drive. Open "Finder" and click on the disc drive icon to view the Backup folder. Drag the folder to the same location as in the old computer, which is "Library | Application Support | MobileSync | Backup."
Warning
Although an iPhone backup retains your phone settings, SMS messages, bookmarks, mail, camera roll and contact information, it does not save your music library.